04.08.2016, 13:05

New technology will protect the phone from robocall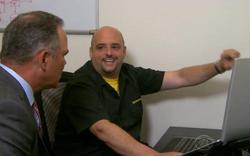 It's happening right now - all across America. People just sit down to dinner, watching TV and the phone rings. It's a robocall - telemarketer, or worse - a fraud.

Phone scams cost Americans $350 million a year. It's hard to come up with something more irritating than robocall - computer generated calls that always come at the wrong time. They are calling to sell people something.

During the first 4 months of this year, the us phones got somewhere around 10 billion robocalls - a record pace, this explains why the complaints in the Federal trade Commission increased by 50 percent this year.

"These calls are offensive and they are illegal," said Lois Greisman with the FTC. "Some of the calls, the scammers who offer something that does not exist."

"We have antivirus on our computers, our servers are protected by firewalls," said FOSS. "And e-mail has spam filtering, but we can't protect our voice calls." The company has developed "Nomorobo" is software that detects high frequency calling patterns, and answers any generated Robo caller, and hangs up before people will pay attention to the call. App Nomorobo goes for about $5 per month.
Sourse: Russian News NEWS.rin.ru

WannaCry the virus has penetrated the computers automaker Honda
[22.06.2017 12:33]
Automaker Honda (HMC) said that the computer is infected with a ransomware virus, has infected other computers at a factory in Japan, breaking the production car.



Apple introduced a new smart speakers HomePod
[06.06.2017 12:38]
Apple held its annual 3-day conference, presenting a new smart speaker, iMac Pro, announcing a major deal with rival company, and the first attempt to capture Venmo.



The world has undergone massive cyber attacks
[15.05.2017 11:36]
Mass cyber attacks to extort around the world that began late Friday, stole hundreds of dollars before the company was able to regain control.



Galaxy S8 conquered South Korea
[20.04.2017 12:43]
More than a million new phones Galaxy S8 was ordered in advance in South Korea, setting a new record for the domestic market, Samsung said a company spokesman Eric Zones.



Media: the popular instant messengers will work under the law
[24.01.2017 10:26]
According to media reports Roscomnadzor and the Ministry of internal Affairs has developed additional amendments to the law "On communication", which allow regulatory authorities to deal with the regulation of the popular instant messengers view, Whatsapp, Viber and Telegram. Perhaps this is due to the fact that



Programmer Stanislaus Lisova transferred to another Spanish prison
[23.01.2017 13:56]
The representative of the Russian Consulate in Spain reported that Stanislav Lisov, a Russian programmer, was transferred from prison in Catalonia closer to Madrid. After the arrest at the request of the American FBI and Interpol he was visited in prison, Brians in the municipality of Martorell.



The company Nintendo released a new game console
[13.01.2017 11:55]
The company Nintendo released a new game console. The Japanese gaming giant announced Friday that the new device will go on sale worldwide on March 3 at a price of $ 299.99.



In China are developing a facial recognition technology
[17.11.2016 13:33]
Chinese tech company Baidu has begun testing of face recognition technology last week. Technology reduces wait time and provides added convenience for guests. So far feedback has been positive, reported in accordance with Baidu (BIDU, Tech30)



Apple introduces iPhone 7
[08.09.2016 10:05]
Apple announced their next generation smartphones and numerous other products at its annual press event on Wednesday. The event started with the speech of Apple CEO Tim cook. Apple recently bought a series of Carpool Karaoke TV exclusively for Apple Music,



Google has launched a new video service Duo
[16.08.2016 13:16]
Google has launched a free new video service, called Duo, which will compete with the service of video calls FaceTime from Apple. Videoservis Duo stands out with easy controls and some interesting bells and whistles.