17.11.2016, 13:33

In China are developing a facial recognition technology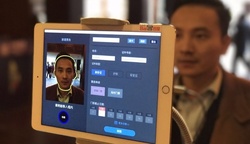 Chinese tech company Baidu has begun testing of face recognition technology last week. Technology reduces wait time and provides added convenience for guests. So far feedback has been positive, reported in accordance with Baidu (BIDU, Tech30) and Wuzhen tourism Co.

When it comes to the visitor's photo is taken and loaded into the database. When he or she is trying to access a certain part of town "Wuzhen", the tablet is attached to the video for the entrance gate. Then multiple frames are sent to the cloud where an artificial intelligence determines a person wishing to access. All this happens in about 0.6 seconds, in accordance with Baidu. The technology is accurate on 99,77%.

The use of biometric data for authorization - this is nothing new. Fingerprint scanners have long been used, but they are not always effective. For example, difficulties arise because of age-related changes.

Baidu is not the only company that uses human face authentication. Microsoft allows users to log in to some systems with facial recognition technology.

In September, Uber started asking drivers of the US to snap a selfie before their first trip, to prevent fraud and protect the account drivers. If a photo of the driver matches what is on file, Uber will block the account until the situation is resolved.

MasterCard was tested using facial recognition to verify the identity of cardholders. The company will officially begin its program in the first half of 2017, according to a press Secretary.

Baidu will allow partners to use its technology. One of the partners is already developing a way to use it to enter the house. Instead of relying on a key or code to the door. He also sees this face recognition technology as a way to prevent scalping of tickets. When you buy a ticket to the event, the organizers can require a picture of your face and then check it when you try to log to the event.
Sourse: Russian News NEWS.rin.ru

IPhone beats records of popularity
[18.08.2017 15:23]
The Agency Strategy Analytics conducted its own study which showed that in the second quarter the iPhone 7 and 7 Plus - the most popular gadgets. To have an iPhone today dream not only adults but even children who only learned to read and write.<br>



A few facts about the new iPhone 7s
[16.08.2017 15:18]
IA Lenta.ru reports that the new iPhone 7s will be bigger in size than the previous version of the smartphone. Giga Apple writes about this, emphasizing that the older accessories won't fit to the new device.<br>



A new kind of spam through cellular communication
[16.08.2017 15:03]
The creators of advertising don't sleep a single minute, constantly finding new ways to convey to the end user information about a particular product. Customers are left only with anger to fend off another invasion of advertising into their personal space.<br>


Viber has a new handy feature
[11.08.2017 14:36]
Viber messenger, which is used by a large number of smartphone owners. The competition make him the Telegram, WhatsApp, Facebook Messenger and ICQ. But Viber developers are trying to make it more convenient for users.<br>



In Russia there are cheap Indian smartphones
[10.08.2017 15:25]
Supercheap Indian smartphone brand Intex has already appeared in Russia. It is unknown if sales of this gadget, but already well-known prices. This Indian brand first appeared in Russia. According to Hi-tech Mail.ru the Intex smartphone will be priced at less than five thousand rubles.<br>



Was withdrawn 275 thousand "liquid" iPhone
[02.08.2017 15:29]
Almost 275 thousand cases, in which in a special liquid containing a gloss, revoked after reports of a leak, causing burns and skin irritation.



Microsoft refused to the applications Paint
[25.07.2017 14:39]
The Paint application appears in the list under Microsoft as a "legacy" feature for future software releases.



In Russia, found a way to stop the spread of the new virus "Pete"
[28.06.2017 15:40]
In Russia, found a way to stop the spread of a new computer virus "Peter". Not to become a victim of IT-experts recommend updating to the latest version of the operating system and reduce user privileges.



WannaCry the virus has penetrated the computers automaker Honda
[22.06.2017 12:33]
Automaker Honda (HMC) said that the computer is infected with a ransomware virus, has infected other computers at a factory in Japan, breaking the production car.



Apple introduced a new smart speakers HomePod
[06.06.2017 12:38]
Apple held its annual 3-day conference, presenting a new smart speaker, iMac Pro, announcing a major deal with rival company, and the first attempt to capture Venmo.