17.11.2016, 13:33

In China are developing a facial recognition technology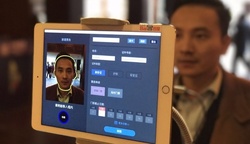 Chinese tech company Baidu has begun testing of face recognition technology last week. Technology reduces wait time and provides added convenience for guests. So far feedback has been positive, reported in accordance with Baidu (BIDU, Tech30) and Wuzhen tourism Co.

When it comes to the visitor's photo is taken and loaded into the database. When he or she is trying to access a certain part of town "Wuzhen", the tablet is attached to the video for the entrance gate. Then multiple frames are sent to the cloud where an artificial intelligence determines a person wishing to access. All this happens in about 0.6 seconds, in accordance with Baidu. The technology is accurate on 99,77%.

The use of biometric data for authorization - this is nothing new. Fingerprint scanners have long been used, but they are not always effective. For example, difficulties arise because of age-related changes.

Baidu is not the only company that uses human face authentication. Microsoft allows users to log in to some systems with facial recognition technology.

In September, Uber started asking drivers of the US to snap a selfie before their first trip, to prevent fraud and protect the account drivers. If a photo of the driver matches what is on file, Uber will block the account until the situation is resolved.

MasterCard was tested using facial recognition to verify the identity of cardholders. The company will officially begin its program in the first half of 2017, according to a press Secretary.

Baidu will allow partners to use its technology. One of the partners is already developing a way to use it to enter the house. Instead of relying on a key or code to the door. He also sees this face recognition technology as a way to prevent scalping of tickets. When you buy a ticket to the event, the organizers can require a picture of your face and then check it when you try to log to the event.
Sourse: Russian News NEWS.rin.ru

The Ministry of communications of Russia promises the abolition of international roaming
[18.10.2017 12:59]
Head VпTп+п¦п+п+я¦п¦я¦пTпT said at the "government hour" in the state Duma that his office actively works towards the abolition of international roaming for the Russians.


Telegram in Moscow awarded a penalty almost on one million roubles
[17.10.2017 10:10]
For refusing to cooperate with the FSB, the magistrate fined the company the developer of Telegram for 800 thousand rubles.


The messenger Telegram finally became legally to support Russian language
[11.10.2017 10:31]
The Russian-speaking segment of social networking fans received good news from Pavel Durov.



Life hacking with a smartphone that you should know
[09.10.2017 10:34]
It's safe to say that smartphones have changed our lives for the better, keeping in mind that the phone today is just not the phone. Now he is a personal assistant, musician, artist, Bank, cinema, master. Since entering the smartphone market so much has changed in them - now they have



Headphones Google translate from 40 languages in real time
[06.10.2017 12:14]
Google has released wireless headphones, which include voice assistant, that is, they can translate 40 languages in real-time.



AI Google IQ higher than Siri and Bing
[04.10.2017 09:42]
IQ tests show that the AI Google one of them is the smartest, but it is still low by human standards.



Telegram messenger can block for breach of law Spring
[27.09.2017 08:41]
Pavel Durov said that to him in his overseas office protocols come from Moscow. The protocols drawn up by the FSB and the record breaking company that it does not provide the keys to decode messages.



How secure facial recognition in iPhone X?
[18.09.2017 11:04]
A brief lesson in the types of threats and why should you care about their safety.



Roskomnadzor is testing a new way of blocking banned sites
[15.09.2017 12:21]
Roskomnadzor has tested and recommended the operators to use the new solution to block illegal content.



The presentation of the iPhone X will remember the embarrassment
[14.09.2017 11:15]
Apple feels embarrassed after a failed demonstration of Face ID for iPhone X