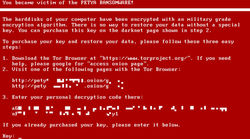 In Russia, found a way to stop the spread of a new computer virus "Peter". Not to become a victim of IT-experts recommend updating to the latest version of the operating system and reduce user privileges.

"Peter" - a modified virus Wanna Cry - struck by the energy, telecommunications and financial companies in the U.S. and Europe, and has now reached Asia. Cases of infection have already fixed in India and China. In Russia, the virus affected 80 corporations and firms, among them "Rosneft" and "Bashneft". Cleaning servers from virus will take time. The new version of the virus more perfect previous. first came under attack Ukraine.

The main server Boryspil airport is still not restored its work because of cyber attacks. Information Board is in manual mode. Some banks still does not work acceptance and transfer of funds. Post offices closed. In the metro it was impossible to pay with a Bank card. The website of the Cabinet of Ministers of Ukraine has stopped working.

Are unable to secure your server cyberpolice Ukraine. Experts say that a hacker attack - the handiwork of fraudsters. WikiLeaks has published a list of 120 programmes that were cyberweapons. But the adviser to the interior Minister Zorian Shkiryak believes that the hacker attack was carried out by Russian special services.