25.07.2017, 14:39

Microsoft refused to the applications Paint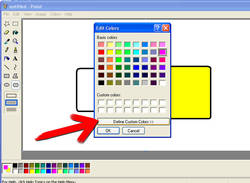 The Paint application appears in the list under Microsoft as a "legacy" feature for future software releases.

Although the tech giant said that this feature "is not in active development" and may soon be removed, it is unclear whether the Paint is officially not present in the Windows 10 upgrade Creators Fall Update, expected this fall.

Paint was released in 1985 with the first version of Windows 1.0. The program was included in every software update to date.

Easy to use tool allows users to crop and resize images, and create simple drawings. Despite the constraints - it cannot be used for complex editing or design photos. Paint is nostalgia among many Windows users. According to Microsoft, last year the Paint was still more than 100 million users per month.

Other functions that can be removed when you upgrade to Windows 10 include Outlook Express, Microsoft Reader and reading list, bookmarks. (Microsoft says that the last two will be integrated with the Microsoft Edge).

But that doesn't mean that the Paint is gone forever. It will be available for free in the Windows Store, but will not receive the update, said a Microsoft representative. In addition, Microsoft in October last year demonstrated a 3D Paint, updated spinoff, which allows users to create 3D images. Paint 3D will be supplied with current and future versions of Windows.
Sourse: Russian News NEWS.rin.ru

The Ministry of communications of Russia promises the abolition of international roaming
[18.10.2017 12:59]
Head VпTп+п¦п+п+я¦п¦я¦пTпT said at the "government hour" in the state Duma that his office actively works towards the abolition of international roaming for the Russians.


Telegram in Moscow awarded a penalty almost on one million roubles
[17.10.2017 10:10]
For refusing to cooperate with the FSB, the magistrate fined the company the developer of Telegram for 800 thousand rubles.


The messenger Telegram finally became legally to support Russian language
[11.10.2017 10:31]
The Russian-speaking segment of social networking fans received good news from Pavel Durov.



Life hacking with a smartphone that you should know
[09.10.2017 10:34]
It's safe to say that smartphones have changed our lives for the better, keeping in mind that the phone today is just not the phone. Now he is a personal assistant, musician, artist, Bank, cinema, master. Since entering the smartphone market so much has changed in them - now they have



Headphones Google translate from 40 languages in real time
[06.10.2017 12:14]
Google has released wireless headphones, which include voice assistant, that is, they can translate 40 languages in real-time.



AI Google IQ higher than Siri and Bing
[04.10.2017 09:42]
IQ tests show that the AI Google one of them is the smartest, but it is still low by human standards.



Telegram messenger can block for breach of law Spring
[27.09.2017 08:41]
Pavel Durov said that to him in his overseas office protocols come from Moscow. The protocols drawn up by the FSB and the record breaking company that it does not provide the keys to decode messages.



How secure facial recognition in iPhone X?
[18.09.2017 11:04]
A brief lesson in the types of threats and why should you care about their safety.



Roskomnadzor is testing a new way of blocking banned sites
[15.09.2017 12:21]
Roskomnadzor has tested and recommended the operators to use the new solution to block illegal content.



The presentation of the iPhone X will remember the embarrassment
[14.09.2017 11:15]
Apple feels embarrassed after a failed demonstration of Face ID for iPhone X