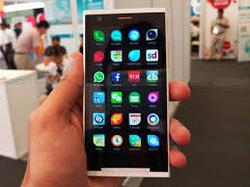 Supercheap Indian smartphone brand Intex has already appeared in Russia. It is unknown if sales of this gadget, but already well-known prices. This Indian brand first appeared in Russia. According to Hi-tech Mail.ru the Intex smartphone will be priced at less than five thousand rubles.<br>
Under the brand name Intex it is planned to implement four types of smartphone - Aqua Joy Aqua Ring, N Glory Cloud, Aqua 4.5 3G and one simple phone Ultra 4000.<br>
Touchtone phone Ultra 4000 will differ from others in that it will have a powerful battery. The capacity will be 4000 mAh. Its performance will be a month in standby mode. It can also be used as recharging for other devices. Its screen size is 2.4 inch, dual SIM cards, flashlight, work with the microSD memory card are the main advantages of the phone. Its price will be less than two thousand roubles. The new Nokia 3310 is almost twice as expensive. The timing of the start of sales of the new smartphone are not known yet.