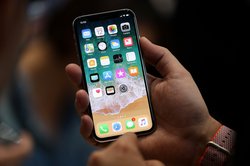 iPhone X, or as it is necessary to say, For Ten (Ten), will be released in smaller quantities due to problems with the screen.

The problem is not that there is no demand, and that production is not capable of delivering this volume of modern OLED displays organic light-emitting diode. These screens provide the technology of face recognition. There are difficulties for them in the production system FaceID.

Currently, Apple is searching for new facilities to ensure the planned number of sales.

We will remind that in the beginning of November, sales of the iPhone start tenth in Russia. And we have the price of a new iPhone will be the highest in the world. For a smartphone with 64 GB of memory will ask 80 Tr, and 256 GB - 92 thousand.

Excessive demand from fans of the brand were not observed at the output of the 8-th model of the iPhone. However, experts connect it not with the decline in popularity, and the fact that immediately after the eighth announced the release of the tenth model. It aimed fans of the iPhones.