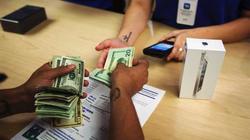 M-video has launched a repurchase program of popular smartphone brands Apple and Samsung.

As the company announces the maximum amount that they are willing to pay for your used smartphone is 32000 RUB Over put iPhone or Samsung M Video the buyer can buy any new phone, the cost of which exceeds 10000 RUB..

M. Video receives on the program treydin any smartphones. The buyer can bring the iPhone since the 5S, while Samsung 2016-2017 edition . The program is valid until December 5, but may be renewed upon review of its effectiveness.

Video is not the first store which launches trade-in program. Before that used smartphones as payment for the new phone launched by Samsung and Evroset.

The program is designed for people who would like to upgrade your phone, But can't or don't want to do it independent of the sale on the secondary market.