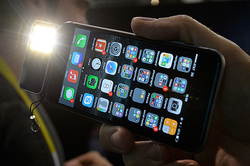 Apple is able to represent the 2nd generation of their own famous phones in 2015.. With this iPhone 6S capable of becoming simple economical version of the iPhone 6 and iPhone 7 - a powerful new flagship.

Apple once again able to instantly produce 2 different phone iPhone in 2015.. Before the same situation was repeated with the iPhone 5S and 5C, then 6 and 6 Plus. At this time we can show economical version of the "six" called 6S and new, 7 modification, with improved data.

Sources familiar with the situation have no doubt that in this, the company will again provide 2 phone. But, what they will be, the media speculating, according to ITProPortal with hyperlink on some media. According to one information iPhone 6S capable displayed simultaneously with the release of smart watches Apple Watch, which is scheduled for the first half of 2015.

Other details both the latest iPhone will be presented traditionally in the 2nd Tuesday of September, which falls in 2015 at the eighth number. Then usually the demonstration of new devices Apple.

In 2014, Apple presented at the same time the iPhone 6 and iPhone 6 Plus. In addition to advanced hardware, they are characterized by high diagonal screens of 4.7 and 5.5 inch, respectively. In 2013, the company issued iPhone 5S and 5C. "C" was the budget version of the phone, with features at the level of last year's model and in the bright plastic case. Other iPhone are usually made out of aluminum and glass.