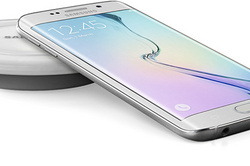 The company Samsung has introduced a new flagship phone Galaxy S6 and S6 Edge at the Unpacked event in 2015. Model S6 Edge has a screen that curves around the edges. In the implementation in Russia of these devices will be available on April 16, as specified Feed.ru" in the public relations division, Samsung.

The phones will be available in white, black, gold, green, and blue. The cost in Russia is not yet announced.

The device S6 Edge differs from the Galaxy S6 a screen that bends around the edges. This property is used, for example, to bear on the sides 5 of contacts to whom the owner of the phone first rings.

Both models have a 5.1-inch screen with a resolution Quad HD (2560 by 1440 pixels). As a result, they have the high detail of the monitors commercially available phones - 577 dpi. The screen is covered with a stable coating scratches by Gorilla glass 4th generation.

On first impressions of a journalist, the screen size Galaxy S6 and S6 Edge less bright than the iPhone 6 Plus, but clearer. Phones compatible with VR VR Gear, which provide a more concrete picture than the Galaxy Note 4.

The apparatus was 16-key megapixel camera with a bright lens (aperture 1/1.9) and optical image stabilization. According to the manufacturer, it is beautifully shot in the dark, and still able to do HDR images in real time (these photos have increased contrast). The front camera has a resolution of 5 megapixels and the same aperture as the main, - 1/1.9.

The phones use a 64-bit processor, built on a 14-nanometer process technology. Theoretically he should be able to run more highly functional application, rather than progressive, consuming with all that less energy than the existing model.

The machines lost slot for flash memory cards microSD. To compensate, the manufacturer proposed a model with a capacity of integrated memory 32, 64 and 128 GB.

The phones have an integrated battery approximately 2600 mA-hours, allowing them to play video for 13 hours, according to the manufacturer, is a pretty good sign. The device supports built-in wireless charging. The thickness of the device is 6.8 and 7 mm for Galaxy S6 and S6 Edge, respectively.