08.05.2008, 10:04

WiMAX promises to transform wireless Internet world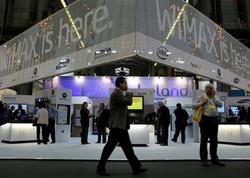 As US technology giants including Google place a multi-billion dollar bet on WiMAX, backers of the wireless data-streaming format say it will radically change mobile Internet use.

A WiMAX network of the kind to be deployed across the United States by a joint venture dubbed Clearwire may render cable or phone line Internet obsolete and set the stage for free Google mobile telephones supported by advertising.

"It is like mobile Internet in your pocket," said Scenna Pabesh, a spokeswoman for nonprofit WiMAX Forum, an industry group that promotes interoperability of networks and devices using the format.

"Anything you could imagine doing in your office or on a hefty Internet connection at home you are going to be able to do on the go."

WiMAX is deployed in 110 countries and Wednesday`s unveiling of Clearwire should ensure the United States joins those ranks, according to Pabesh.

The Asian Pacific region leads in WiMAX adoption. South Korea is considered a "success model" with 150,000 people, most of them in Seoul, subscribing to WiMAX mobile services, she said.

WiMAX quickly moves large amounts of digital data such as video or picture files across kilometers, as compared to Wi-Fi connections available in cyber cafes or other "hot spots" where signals reach a few hundred meters or less.

"It is really Wi-Fi on steroids, but the trick is getting it rolled out," Silicon Valley analyst Rob Enderle told AFP.

"It is actually a game changer if Clearwire can bring it out. For the consumer it is cheaper, faster and you are not locked down to home or Starbucks."

WiMAX takes advantage of broadband frequency spectrums and was likely on Google`s mind when it got US regulators to make open access a condition in a recent 700 MHz spectrum auction.

WiMAX connections are so data-rich and inexpensive that it would be feasible for online colossus Google to market a "Gphone" that offers mobile telephone and Internet services supported by advertising, Enderle said.

WiMAX also holds the potential to deliver high-speed Internet to remote locations because towers can relay WiMAX signals long ranges.

While the Clearwire network is not expected to be deployed in the United State for several years, Wednesday`s announcement is seen as a "bellwether" by the industry, according to Pabesh.

"This can only be good news for WiMAX and its propagation worldwide," Pabesh said. "We expect WiMAX to become a mass market technology in the next two or three years. It is really bringing mobile broadband to the masses."

Clearwire is one of the largest WiMAX spectrum owners worldwide, with an emphasis on Europe, according to WiMAX Forum.

"What a lot of people overlook is that WiMAX is already quite successful and new deployments are coming online rapidly," Pabesh said.

Sprint Nextel and Clearwire said they would combine their networks in a new company, to be named Clearwire, to deploy a nationwide WiMAX network that will "dramatically enhance the speed and manner in which customers access all that the Internet has to offer."

The new firm will start with a combined 3.2 billion dollars of investment from Internet search giant Google, computer chip maker Intel, cable firms Comcast and Time Warner Cable and service provider Bright House Networks.
Sourse: Russian News NEWS.rin.ru

WannaCry the virus has penetrated the computers automaker Honda
[22.06.2017 12:33]
Automaker Honda (HMC) said that the computer is infected with a ransomware virus, has infected other computers at a factory in Japan, breaking the production car.



Apple introduced a new smart speakers HomePod
[06.06.2017 12:38]
Apple held its annual 3-day conference, presenting a new smart speaker, iMac Pro, announcing a major deal with rival company, and the first attempt to capture Venmo.



The world has undergone massive cyber attacks
[15.05.2017 11:36]
Mass cyber attacks to extort around the world that began late Friday, stole hundreds of dollars before the company was able to regain control.



Galaxy S8 conquered South Korea
[20.04.2017 12:43]
More than a million new phones Galaxy S8 was ordered in advance in South Korea, setting a new record for the domestic market, Samsung said a company spokesman Eric Zones.



Media: the popular instant messengers will work under the law
[24.01.2017 10:26]
According to media reports Roscomnadzor and the Ministry of internal Affairs has developed additional amendments to the law "On communication", which allow regulatory authorities to deal with the regulation of the popular instant messengers view, Whatsapp, Viber and Telegram. Perhaps this is due to the fact that



Programmer Stanislaus Lisova transferred to another Spanish prison
[23.01.2017 13:56]
The representative of the Russian Consulate in Spain reported that Stanislav Lisov, a Russian programmer, was transferred from prison in Catalonia closer to Madrid. After the arrest at the request of the American FBI and Interpol he was visited in prison, Brians in the municipality of Martorell.



The company Nintendo released a new game console
[13.01.2017 11:55]
The company Nintendo released a new game console. The Japanese gaming giant announced Friday that the new device will go on sale worldwide on March 3 at a price of $ 299.99.



In China are developing a facial recognition technology
[17.11.2016 13:33]
Chinese tech company Baidu has begun testing of face recognition technology last week. Technology reduces wait time and provides added convenience for guests. So far feedback has been positive, reported in accordance with Baidu (BIDU, Tech30)



Apple introduces iPhone 7
[08.09.2016 10:05]
Apple announced their next generation smartphones and numerous other products at its annual press event on Wednesday. The event started with the speech of Apple CEO Tim cook. Apple recently bought a series of Carpool Karaoke TV exclusively for Apple Music,



Google has launched a new video service Duo
[16.08.2016 13:16]
Google has launched a free new video service, called Duo, which will compete with the service of video calls FaceTime from Apple. Videoservis Duo stands out with easy controls and some interesting bells and whistles.