08.05.2008, 10:04

WiMAX promises to transform wireless Internet world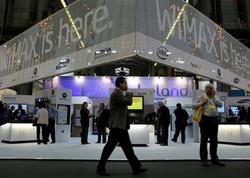 As US technology giants including Google place a multi-billion dollar bet on WiMAX, backers of the wireless data-streaming format say it will radically change mobile Internet use.

A WiMAX network of the kind to be deployed across the United States by a joint venture dubbed Clearwire may render cable or phone line Internet obsolete and set the stage for free Google mobile telephones supported by advertising.

"It is like mobile Internet in your pocket," said Scenna Pabesh, a spokeswoman for nonprofit WiMAX Forum, an industry group that promotes interoperability of networks and devices using the format.

"Anything you could imagine doing in your office or on a hefty Internet connection at home you are going to be able to do on the go."

WiMAX is deployed in 110 countries and Wednesday`s unveiling of Clearwire should ensure the United States joins those ranks, according to Pabesh.

The Asian Pacific region leads in WiMAX adoption. South Korea is considered a "success model" with 150,000 people, most of them in Seoul, subscribing to WiMAX mobile services, she said.

WiMAX quickly moves large amounts of digital data such as video or picture files across kilometers, as compared to Wi-Fi connections available in cyber cafes or other "hot spots" where signals reach a few hundred meters or less.

"It is really Wi-Fi on steroids, but the trick is getting it rolled out," Silicon Valley analyst Rob Enderle told AFP.

"It is actually a game changer if Clearwire can bring it out. For the consumer it is cheaper, faster and you are not locked down to home or Starbucks."

WiMAX takes advantage of broadband frequency spectrums and was likely on Google`s mind when it got US regulators to make open access a condition in a recent 700 MHz spectrum auction.

WiMAX connections are so data-rich and inexpensive that it would be feasible for online colossus Google to market a "Gphone" that offers mobile telephone and Internet services supported by advertising, Enderle said.

WiMAX also holds the potential to deliver high-speed Internet to remote locations because towers can relay WiMAX signals long ranges.

While the Clearwire network is not expected to be deployed in the United State for several years, Wednesday`s announcement is seen as a "bellwether" by the industry, according to Pabesh.

"This can only be good news for WiMAX and its propagation worldwide," Pabesh said. "We expect WiMAX to become a mass market technology in the next two or three years. It is really bringing mobile broadband to the masses."

Clearwire is one of the largest WiMAX spectrum owners worldwide, with an emphasis on Europe, according to WiMAX Forum.

"What a lot of people overlook is that WiMAX is already quite successful and new deployments are coming online rapidly," Pabesh said.

Sprint Nextel and Clearwire said they would combine their networks in a new company, to be named Clearwire, to deploy a nationwide WiMAX network that will "dramatically enhance the speed and manner in which customers access all that the Internet has to offer."

The new firm will start with a combined 3.2 billion dollars of investment from Internet search giant Google, computer chip maker Intel, cable firms Comcast and Time Warner Cable and service provider Bright House Networks.
Sourse: Russian News NEWS.rin.ru

IPhone beats records of popularity
[18.08.2017 15:23]
The Agency Strategy Analytics conducted its own study which showed that in the second quarter the iPhone 7 and 7 Plus - the most popular gadgets. To have an iPhone today dream not only adults but even children who only learned to read and write.<br>



A few facts about the new iPhone 7s
[16.08.2017 15:18]
IA Lenta.ru reports that the new iPhone 7s will be bigger in size than the previous version of the smartphone. Giga Apple writes about this, emphasizing that the older accessories won't fit to the new device.<br>



A new kind of spam through cellular communication
[16.08.2017 15:03]
The creators of advertising don't sleep a single minute, constantly finding new ways to convey to the end user information about a particular product. Customers are left only with anger to fend off another invasion of advertising into their personal space.<br>


Viber has a new handy feature
[11.08.2017 14:36]
Viber messenger, which is used by a large number of smartphone owners. The competition make him the Telegram, WhatsApp, Facebook Messenger and ICQ. But Viber developers are trying to make it more convenient for users.<br>



In Russia there are cheap Indian smartphones
[10.08.2017 15:25]
Supercheap Indian smartphone brand Intex has already appeared in Russia. It is unknown if sales of this gadget, but already well-known prices. This Indian brand first appeared in Russia. According to Hi-tech Mail.ru the Intex smartphone will be priced at less than five thousand rubles.<br>



Was withdrawn 275 thousand "liquid" iPhone
[02.08.2017 15:29]
Almost 275 thousand cases, in which in a special liquid containing a gloss, revoked after reports of a leak, causing burns and skin irritation.



Microsoft refused to the applications Paint
[25.07.2017 14:39]
The Paint application appears in the list under Microsoft as a "legacy" feature for future software releases.



In Russia, found a way to stop the spread of the new virus "Pete"
[28.06.2017 15:40]
In Russia, found a way to stop the spread of a new computer virus "Peter". Not to become a victim of IT-experts recommend updating to the latest version of the operating system and reduce user privileges.



WannaCry the virus has penetrated the computers automaker Honda
[22.06.2017 12:33]
Automaker Honda (HMC) said that the computer is infected with a ransomware virus, has infected other computers at a factory in Japan, breaking the production car.



Apple introduced a new smart speakers HomePod
[06.06.2017 12:38]
Apple held its annual 3-day conference, presenting a new smart speaker, iMac Pro, announcing a major deal with rival company, and the first attempt to capture Venmo.