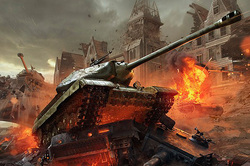 Russian team Hellraisers became a favorite of the world in one of the biggest competitions in the world of eSports. Players from Russia won the Grand final for the game World of Tanks (World of tanks), held in Warsaw.

The Grand finale was attended by 2 teams of 7 players from each region - Asia Pacific, CIS, Europe, North America and from China, and 2 invited the initiators of the team. 4 out of 12 teams consisted of Russian players. In the main battle slug from the team Hellraisers beat Chinese national team EL Gaming with a score of 7:1.

Cup for 1st place was $ 150 thousand dollars. Silver medalists EL Gaming got 75 thousand dollars. Note that last year's victory in the championship celebrated another national team Na'vi. This time they took only the third place, having received the Cup in 35 thousand dollars.

As we reported TASS, at all events on the giant screens was watched by hundreds of fans, and on the Internet for the broadcast was watched by thousands of users. Game World of Tanks is widely known both in Russia and the CIS and worldwide. After 5 years the game has attracted 110 million people.

Company Director Wargaming.net who developed World of Tanks, Victor Kislyi, reports that one of the major tasks performed by this game, was the dissemination of knowledge about the Second world war. "We are bringing the truth about the Second world war. Raise this topic roughly speaking outside Russia and the CIS, where it is well know from Adam. Play our game you can not, at least not studying the history of tank, tank battles, world war II. Millions of inhabitants of our planet we are attracted to the study of the history of the war. We see this as an own goal," assures Sour.

The history of the tank eSports started in 2010. However 2 years later on change to Amateur tournaments came to international competitions. In 2013 decided to organize a Global League World of Tanks. The tournament was the most ambitious in the history of the game. Just over a year in 3 seasons in the competition was attended by over 40 thousand teams from around the world. The best of them fight in the Grand final, which is the 2nd consecutive year, is held in April in Warsaw.