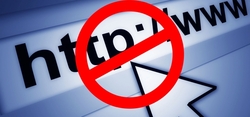 From today enters into force a legislative ban on the use of anonymizers as a bypass of lock of sites of Roskomnadzor.

The law, signed by President Vladimir Putin instructs the proxy and VPN services to block access to sites that are in the registry of blocked sites ILV. The Russians used these services in order to visit blocked websites.

In addition, the law stipulates the requirement to the search engines also exclude the results links to the sites contained in the register of Roskomnadzor. In the case of non-compliance of the law anonymizer, VPN services, and search engines themselves are blocked.