09.07.2015, 12:58

Russia showed the best suit in the world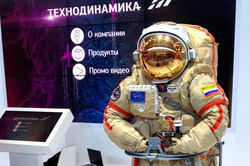 Experts the group Technodynamical" in the state Corporation "rostec", presented at the exhibition "INNOPROM-2015" in Ekaterinburg updated suit for spacewalks. It is built in the so-called climate control that has no analogues in the world.

The creators of Orlan MKS has created it even better. "By replacing the rubber membrane for polyurethane engineers turned to increase the period of use of spacesuits with 4 to 5 years, and the number of EVAs from 15 to 20", - told in Department of public relations of group Technodynamical".

Professionals have informed that the astronauts will be able to not only personally to wear new suits, but also to carry out all activities focused on tuning and minor repairs. In case of depressurization in consequence of a defect of a covering in the "Orlan MKS system is provided capable of maintaining inside space suit your own pressure.

However the largest specificity of innovations is considered to be automated thermal control system, which allows the astronauts to not be distracted by control of temperature and pay more attention to these tasks. Also, she will not allow either overheating or overcooling of researchers during the work in open space.

In many ways the new Russian spacesuits significantly surpass foreign analogues, said the experts. For example, American costumes ISS EVA suit can maintain pressure if the damage is only 30 minutes, and Orlan MKS - 50 minutes. This gives the astronauts plenty of time to get back to the station. Besides all this, the Russian development easier by 35 kg, and in Orlan MKS" can I come in and not to put it on yourself. But the most relevant is the duplication of systems to increase reliability.
Sourse: Russian News NEWS.rin.ru

How to conduct useful online webinar
[08.05.2018 13:41]
Developing countries, where the population has enough money to self-education, widely use webinars. This method is used as a separate form of income on the Internet. However, this method of conferencing is still not well understood by users and requires an understanding of,



Soon, the sim card may replace a passport.
[15.11.2017 10:09]
In the State Duma proposed to replace the passport with a special sim card that will act as a personal identifier.


Than iPhone good for modern girls.
[08.11.2017 12:23]
The new iPhone 10 is quite different from its predecessors and many women did not know whether to buy a new phone or keep the old one.



The Russian ban on anonymizers to bypass the lock ILV
[01.11.2017 09:13]
From today enters into force a legislative ban on the use of anonymizers as a bypass of lock of sites of Roskomnadzor.



Another retailer luring customers with smartphones tradina
[31.10.2017 10:46]
M-video has launched a repurchase program of popular smartphone brands Apple and Samsung.



Insurers suggest to insure from attacks of hackers
[27.10.2017 11:21]
A working group with the participation of Sberbank has made a proposal to oblige to insure the risk of hacking computer networks and, in General, the risk of cyber threats.



Tenth iPhone will release in 2 times less from the plan
[25.10.2017 10:41]
iPhone X, or as it is necessary to say, For Ten (Ten), will be released in smaller quantities due to problems with the screen.



"Bad Bunny" attacked Russian banks
[25.10.2017 09:50]
Virus BadRabbit produced a large-scale attack on major banks of our country.



The Ministry of communications of Russia promises the abolition of international roaming
[18.10.2017 12:59]
Head Vп?пҐп?пЎп?я?п?я?пЇп? said at the "government hour" in the state Duma that his office actively works towards the abolition of international roaming for the Russians.



Telegram in Moscow awarded a penalty almost on one million roubles
[17.10.2017 10:10]
For refusing to cooperate with the FSB, the magistrate fined the company the developer of Telegram for 800 thousand rubles.