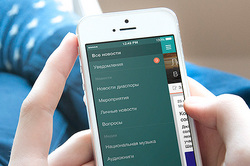 In Russia start Dating service "My Diaspora" with the search function 2nd wife. According to the creators, this app is gaining popularity among Dagestanis, Armenians, Chechens and Tatars. The web site has registered more than 10 million people, and 1.5 thousand decided to use search partner.

As informs the newspaper "Izvestia", in Russia earned 1st mobile service "Halal" Dating for Muslims - with the help of app you can find a second wife or first and only partner in life, proper religious and national aspects.

According to the founder of the project Mydiaspora.mobi of Arsene Kazibekov, in the first line of communication photos of impossible to see: selection of appropriate candidates for a wife can sometimes be the indispensable basis of detailed questionnaires. The service is designed primarily for workers and should be an alternative to the already running web Dating sites, which, according to the statement Kazibekova, "contrary to Islamic principles".

When registering with the economic situation and attitude to alcohol and tobacco, the fairer sex need to specify the change of religion that professes intended spouse, and number of siblings. When communication is the ability to add in chat older brother or father.

The total project cost is estimated at 150 thousand dollars. 1st instalment made himself the founder of the project, which previously did business. After 2 were involved investors from Tatarstan, whose names were not disclosed. Kazibekov anticipates that the project will pay for itself in 5 months. Make money social network and Dating service is a method of levying a fee on money transfers that will be executed using the portal. Among other things, users will later be able to send each other gifts paid in accordance with the practice of "Classmates" and "Vkontakte".

The basic version is free, however by the end of July will be presented an extended list of opportunities, which will cost users $ 10 a month. Application for Halal Dating is available for iOS and Android.