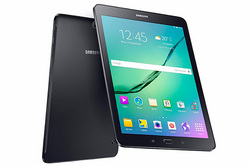 The South Korean company Samsung introduced a new flagship tablet - the Galaxy Tab S2. The fixtures will appear in the implementation with a display diagonal of 9.7 and 8 inches, and the apparatus was similar to the tablets from Apple, setting in all of this the world record for the thickness of the shell.

Samsung showed the Galaxy Tab S2, released in 2 versions: with a screen size of 9.7 d and 8 inches. Remarkably, the aspect ratio has changed from "widescreen" 16:10 in portrait 4:3, classic used in Apple iPads. Looks like Samsung has realized that devices with monitors of such proportions is more comfortable to use, notes The Verge.

Resolution Super AMOLED screens of both models is 2048x1536, which is identical to the iPad Air 2 and iPad mini 3. And the thickness is only 5,6 - 0.5 mm less than the 9.7-inch Apple tablet. In other words, Samsung has managed to beat the world record a full-sized tablets, previously installed Dell Venue 8 7840 (6 mm).

The weight of the 8-inch version - 265 grams, the other 389 grams (Wi-Fi). Both devices are equipped with Quad-core processor with a clock frequency of 1.3 GHz, 8-megapixel main camera and a front 2.1 megapixels. RAM tablets is estimated to be 3 GB, among other things, there is a microSD slot with expandable memory up to 128GB. 8-inch model has a battery capacity of 4000 milliampere-hours, and another 5870.

Design fixtures reminiscent of the phablet Galaxy Note 4 is mixed with a metal frame
plastic back cover. Novelties will go on sale in August. The cost of such devices is not specified.