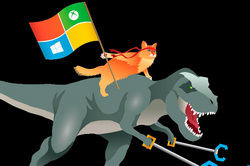 Microsoft has launched an official website dedicated to the release of Windows 10. The day before the planned global release of the latest operating system it predstavili using the cat that rides on the back of a dinosaur.

Microsoft has launched the official web site of Windows 10 Launch" dedicated to the release of the latest OSes. The main content of the web site is already well-known materials from earlier blogs about Windows, photo, video, screenshots already released productions. Most importantly, Microsoft has not forgotten to remind users that upgrade to Windows 10 for free.

Apart from all this, the website is an interactive map which shows the tweets of users from around the world, talking about what they look forward to the upcoming release of Windows 10. As a special surprise users are expected to download the animation and Wallpapers for various devices, which depict "ninja cat" holding the flag of Windows and riding a tyrannosaur, tells Geektimes.

This character appeared in the latest versions of Skype for Windows 10 Insider Preview in the form of amusing Easter eggs: in the chat it was necessary to send "windows10". There are several varieties of this illustration, which became especially famous among the participants of the program Insiders.

Note, yesterday appeared in the press rumors that Microsoft is not ready to release a new operating system. Many experts have begun to post bugs found in Windows 10. Taking into account the opinion of the chief editor of tech blog TheVerge Tom Warren, eliminate them for a short period of time impossible.

Directly Warren managed to get on their own a Windows tablet computer "blue screen of death". According to the expert, the problem was related to the drivers of the devices. However, literally the last day before the long awaited release Microsoft has released another update for Windows 10, which, quite possibly, fixed the bugs.