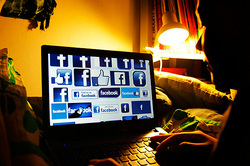 The world famous social network Facebook has set a new record of popularity. Per day own accounts took advantage of 1 billion people. In early June 2015, the number of daily active users of social networks was approximately 968 million.

The developer of Facebook mark Zuckerberg said on its own page that, on 28 August, the social network visited 1 billion users. "We just reached a significant milestone. For the first time 1 billion people used Facebook in 1 day. I.e., each of the company, in early June 2015, the number of every day active users of the social network was about $ 968 million.

Net profit of Facebook in the first half of 2015 amounted to a mind-boggling 1,224 billion.

According to statistics, in all social networks most of session time people spend studying news feeds. With all this, the most active users live in the Central Federal District. The largest share of solvent audience inside Facebook, specifically, because it is of interest to many advertisers. However, when comparing the joint number of potential buyers with high income in the 1st place goes to "Vkontakte". This is to start advertising economic services, mobile applications and browser-based games.