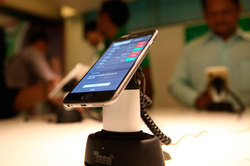 In the press leaked information about the cost for new iPhone models that Apple will present to the public on September 9. So, the most inexpensive "Apple" smartphone will cost just over 52 thousand rubles, and the most expensive - in the range of 75 thousand rubles.

Portal TechTastic 9 days before the official presentation of new products from Apple has published the cost of the iPhone 6S and iPhone 6S Plus. Contrary to expectations and rumors, consumers will again be available in 3 variants of memory capacity: 16, 64 and 128 GB. Earlier it was reported that 16 GB will replace the 32 GB, which will increase small price of the phone.

The cost of the iPhone 6S will start from 699 euros (52 318 rubles at the exchange rate on 1 September 2015) for the version of 16 GB, 799 euros (59 803 rubles) for the version with 64 GB and 899 euros (67 288 rubles) - 128 GB.

Similar modifications of the iPhone 6S Plus will cost 100 euros more expensive, specifically: 799 euros for 16 GB , 899 euros for the 64 GB and 999 euros for the 128 GB. Therefore, based on the domestic currency in the most expensive of the new flagship Apple smartphone will cost 74 772 of the ruble. Note that probably the same price at the moment extends to the current generation of smartphones from Apple - iPhone 6 and iPhone 6 Plus.

Note that the main innovation in the iPhone 6S and iPhone 6S Plus will technology ForceTouch. Thanks to this function, the screen will respond to the pressing force, which may allow the phone to get rid of the Home button. The iPhone screen will make from ionized glass. Sapphire glass, which is already 1 year fans expect, again, no. But despite all of the above will surprise fans of the new camera. The resolution can be increased from 8 to 12 megapixels. Also, it is assumed that the corpus will have a pink tinge.

Remember that the demonstration of Apple will take place on September 9 in San Francisco. The event will start at 20:00 at the sports complex Bill Graham Civic Auditorium, designed for 7 thousand people. In addition to phones, will be presented to the operating system, also a new model set-top boxes. After the presentation of Apple there, the group will perform Impire of the Sun.