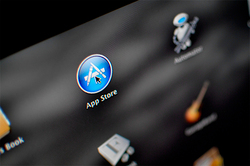 Mall apps from the Apple App Store has undergone a large-scale hacker attack. Network villains managed to enter the malware and infect hundreds of legitimate applications.

Apple has announced that gutted the App Store malware detected after 1 same large-scale hacker attacks. The virus, dubbed XcodeGhost, has infected hundreds of legitimate applications. Earlier attacks in the App Store were detected in a total of 5 malware, said dealing with cyber security company Palo Alto Networks Inc.

The virus was detected in Xcode, which is used to create Apple applications. Code villains were inside, and applications. "We removed the app from the App Store, which we know that they are infected," Reuters quotes the press-Secretary of the Apple Christine Monahan. "We are working with developers to make sure they use the correct version of Xcode to repair your own applications," she added, without specifying exactly how iPhone and iPad users can find, not infected if their fixtures.

In Palo Alto Networks reported that it did not register a single case of theft of personal data in the course of a hacker attack. And yet she demonstrated that even such a strong security policy, like Apple, has gaps. Other criminals can copy this approach for their own attacks.

Infected version of Xcode was downloaded from the server in the PRC, which was used by the creators for faster loading than when using the Apple servers in the United States. Chinese security company revealed that revealed 344 apps infected with XcodeGhost. Apple doesn't want to talk about how many applications she revealed. The attack affects app WeChat, Didi taxi and Kuaidi app for booking train tickets Railway 12306.