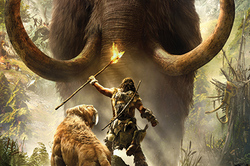 The company Ubisoft announced the action adventure Far Cry Primal. Unlike previous editions, telling about the modern world, the action this time will unfold in the stone age. About it reported in a press release sent to the editors "ru".

Players can control a caveman - experienced hunter Tackroom, whose tribe were killed. The hero will have to constantly fight for survival in a crazy world, full of saber-toothed tigers and mammoths. In the list of classes on the go to make weapons and tools from bones of dead animals, hunting to get food, to strike fire, to fend off predators and resist castes.

"The concept of Far Cry is extremely flexible, in consequence of this, when the idea arose to move the action to the stone age, we just decided to take and try. And the more we worked on the project, the better be aware how successful our vision," said Executive producer Dan hay.

Fresh release scheduled to release February 23, 2016 for the PS4 and Xbox One. At the beginning of March 2016 for PS4 and Xbox One. At the beginning of March 2016 it will be available on PC.

Prior to the release of Far Cry - Far Cry 4 appeared in Russia on 20 November 2014. On sale version for PC, PlayStation 4, Xbox One, PlayStation 3 and Xbox 360. The development was praised in the specialized press average score of the most highly acclaimed versions for the PS4 was 85 points out of 100, according to reliable information aggregator Metacritic.com. By December 2014 in the world sold 7 million copies of the game.