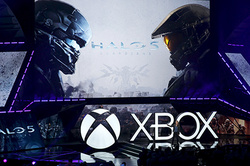 Sci-Fi shooter Halo 5: Guardians has been on the market in versions for Xbox One. This news appeared in the official microblog team on Twitter Xbox.

In the story campaign is supposed to play alternately for commanders 2 units. 1st hero Master chief, a cybernetically enhanced space Marines, whom usually offer to play in all license editions of Halo. 2nd - agent Locke from the mini-series Halo: Nightfall is distributed only in digital format.

Rating new releases in specialized Western press was 85 out of 100 points, according to reliable information aggregator Metacritic.com (based on 48 reviews). Domestic gaming press put Halo 5, about 88 out of 100 according to aggregator Kritikanstvo.ru in which is now submitted 8 articles. The bulk of the reviewers liked the multiplayer modes of Halo 5, but in opinions about how to evaluate the whole game, they broke up.

Put 9 out of 10 the Escapist portal called forth in the Halo 5 story disappointing, and complained that in fact too many enemies that need to attack from behind, but was informed that level design is one of the best in the cycle, and new abilities fighters significantly improve the shootout and in the single player campaign and in multiplayer mode.

Russian portal "Gambling" felt that the denouement in Halo 5 is more suitable disney movie. However the gameplay itself, given the reviewer's opinion, makes a great presentation and worthy of evaluation 9 out of 10. The article stipulates that the multiplayer tested only during trial sessions for correspondents. The load on the servers in such studies is much less than after the official release of the game. At the meeting was informed that the review will be updated, if at the moment of release, the multiplayer modes will work intermittently.

Put the lowest ratings portals Destructiod (7 of 10) and Digital Spy (6 of 10) agree that the multiplayer modes - the best there is in Halo 5. The single player campaign, as stated, the reviewers, is not really totally useless, but banal and confused.

Halo - a series of science-fiction shooters that debuted on the Xbox 1 in 2001. Major releases are the main exclusives for the Xbox.