11.11.2015, 11:59

Fallout 4 has recreated the characters of Tomb Raider and "breaking bad"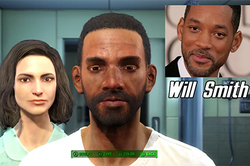 Internet user under the nickname 8-Bit Bastard was used integrated into a role-playing game Fallout 4 the character editor to recreate in her characters from other popular games and series. Video summary of the experiments appeared on his YouTube channel.

Besides Lara Croft from Tomb Raider, Walter white from Breaking Bad (breaking bad), Trevor from Grand Theft Auto V and John Marston from Red Dead Redemption, selection of the hit actor will Smith.

Immediately after the game was released on 10 November on social networks began to appear, other examples of the application editor: with his encouragement began to make intentionally awful characters.

The character Creator in Fallout 4 offers a broad set of characteristics that can be adjusted to more narrow options of facial features. In case if users are interested to understand how deep should be planted with the eyes and one hundred to modify your nose so that the character looked cute, provides a set prepared beforehand.

Fallout - cycle of the famous RPG, set in post-apocalyptic America. Users are provided with a freedom of action, and the plot makes fun of many clichц?s of modern pop culture and the realities of the United States, for example the propensity of many Americans Scientology. Fallout 4 was released for PC, Xbox One and PS4.

<iframe width=`640` height=`360` src=`http://lentaru.media.eagleplatform.com/index/player?player=new
Sourse: Russian News NEWS.rin.ru

How to conduct useful online webinar
[08.05.2018 13:41]
Developing countries, where the population has enough money to self-education, widely use webinars. This method is used as a separate form of income on the Internet. However, this method of conferencing is still not well understood by users and requires an understanding of,



Soon, the sim card may replace a passport.
[15.11.2017 10:09]
In the State Duma proposed to replace the passport with a special sim card that will act as a personal identifier.


Than iPhone good for modern girls.
[08.11.2017 12:23]
The new iPhone 10 is quite different from its predecessors and many women did not know whether to buy a new phone or keep the old one.



The Russian ban on anonymizers to bypass the lock ILV
[01.11.2017 09:13]
From today enters into force a legislative ban on the use of anonymizers as a bypass of lock of sites of Roskomnadzor.



Another retailer luring customers with smartphones tradina
[31.10.2017 10:46]
M-video has launched a repurchase program of popular smartphone brands Apple and Samsung.



Insurers suggest to insure from attacks of hackers
[27.10.2017 11:21]
A working group with the participation of Sberbank has made a proposal to oblige to insure the risk of hacking computer networks and, in General, the risk of cyber threats.



Tenth iPhone will release in 2 times less from the plan
[25.10.2017 10:41]
iPhone X, or as it is necessary to say, For Ten (Ten), will be released in smaller quantities due to problems with the screen.



"Bad Bunny" attacked Russian banks
[25.10.2017 09:50]
Virus BadRabbit produced a large-scale attack on major banks of our country.



The Ministry of communications of Russia promises the abolition of international roaming
[18.10.2017 12:59]
Head Vп?пҐп?пЎп?я?п?я?пЇп? said at the "government hour" in the state Duma that his office actively works towards the abolition of international roaming for the Russians.



Telegram in Moscow awarded a penalty almost on one million roubles
[17.10.2017 10:10]
For refusing to cooperate with the FSB, the magistrate fined the company the developer of Telegram for 800 thousand rubles.