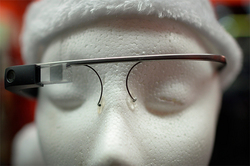 The Google Glass team is working on 3 new wearable devices. 1 model will have the screen working on the voice, another is a gadget for a healthy lifestyle, and 3-d smart glasses without glasses.

According to reliable information, the publication of the Information, the new Google - Project Aura, which employed a team of Glass and Beyond today working on 3 prototypes of wearable smart devices. One of them is the headset, which interacts with the user only by using audio. At this stage it remains unclear what the gadget may differ from headphones or a Bluetooth headset, but the purpose of it is, apparently, still do not use the hands of the user and not to distract his attention.

Another gadget aimed at athletes, which is more comfortable to receive the audio information. With all this, the sound is transmitted through vibrations through the bones of the skull in the area of the cochlea, as was the case with Google Glass.

The third fixture is working on a team, most likely, will be abolished and will be included in one of the 2 named. Tells that the output of the first fixtures of the Aura Project is scheduled for 2016.

It is noted that all the prototypes are created to be worn on the head. Version the screen will be focused on the business sector of the market and a device without a screen will be sport-oriented. To create Project Aura drew 3 experts for consumer electronics research laboratory Lab126 Amazon and Apple veteran of max Ratner, who participated in the development of the iPhone.