02.08.2016, 15:15

Apple will replace the emoticon depicting a gun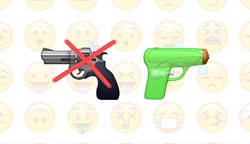 Apple will replace the gun smiley face on a green water gun in the next version of its operating system for iPhone and IPad IOS 10.

Water gun is just one of a number of smileys that will be subject to change, announced the company on Monday. It will also present new and modernized emoticons, which show that women occupy stereotypical male jobs such as detective, construction worker and police officer. There is a new female athletes, the pride flag, as well as options of the family for single parents.

Earlier this year the governing body responsible for the rejected plan emoticons smiley-rifle. It was one of the new additions, but the members of the Unicode consortium Apple and Microsoft spoke out against rifles, according to Buzzfeed.

The gun and other smileys of weapons prompted people in trouble with the law. 12-year-old boy in Virginia has been charged after allegedly threatening the school in Instagram, when used in the message emoticon of a firearm, knife, and bomb. A teenager in Brooklyn has been arrested for posting COP, smilia with a gun pointing to his head. The charges were later dropped.

A French court has ruled that the smiley face depicting the pistol may constitute a deadly threat, and sentenced the man to 3 months in prison for text messages with a smiley face, which was addressed to his former girlfriend.

Last year an organization called "new Yorkers" started a campaign against armed violence and sent an open letter asking Apple to replace its version of the gun with another smiley face. Apple will release IOS 10 this fall.
Sourse: Russian News NEWS.rin.ru

How to conduct useful online webinar
[08.05.2018 13:41]
Developing countries, where the population has enough money to self-education, widely use webinars. This method is used as a separate form of income on the Internet. However, this method of conferencing is still not well understood by users and requires an understanding of,



Soon, the sim card may replace a passport.
[15.11.2017 10:09]
In the State Duma proposed to replace the passport with a special sim card that will act as a personal identifier.


Than iPhone good for modern girls.
[08.11.2017 12:23]
The new iPhone 10 is quite different from its predecessors and many women did not know whether to buy a new phone or keep the old one.



The Russian ban on anonymizers to bypass the lock ILV
[01.11.2017 09:13]
From today enters into force a legislative ban on the use of anonymizers as a bypass of lock of sites of Roskomnadzor.



Another retailer luring customers with smartphones tradina
[31.10.2017 10:46]
M-video has launched a repurchase program of popular smartphone brands Apple and Samsung.



Insurers suggest to insure from attacks of hackers
[27.10.2017 11:21]
A working group with the participation of Sberbank has made a proposal to oblige to insure the risk of hacking computer networks and, in General, the risk of cyber threats.



Tenth iPhone will release in 2 times less from the plan
[25.10.2017 10:41]
iPhone X, or as it is necessary to say, For Ten (Ten), will be released in smaller quantities due to problems with the screen.



"Bad Bunny" attacked Russian banks
[25.10.2017 09:50]
Virus BadRabbit produced a large-scale attack on major banks of our country.



The Ministry of communications of Russia promises the abolition of international roaming
[18.10.2017 12:59]
Head Vп?пҐп?пЎп?я?п?я?пЇп? said at the "government hour" in the state Duma that his office actively works towards the abolition of international roaming for the Russians.



Telegram in Moscow awarded a penalty almost on one million roubles
[17.10.2017 10:10]
For refusing to cooperate with the FSB, the magistrate fined the company the developer of Telegram for 800 thousand rubles.