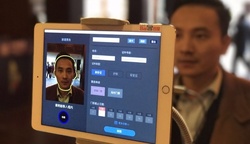 Chinese tech company Baidu has begun testing of face recognition technology last week. Technology reduces wait time and provides added convenience for guests. So far feedback has been positive, reported in accordance with Baidu (BIDU, Tech30) and Wuzhen tourism Co.

When it comes to the visitor's photo is taken and loaded into the database. When he or she is trying to access a certain part of town "Wuzhen", the tablet is attached to the video for the entrance gate. Then multiple frames are sent to the cloud where an artificial intelligence determines a person wishing to access. All this happens in about 0.6 seconds, in accordance with Baidu. The technology is accurate on 99,77%.

The use of biometric data for authorization - this is nothing new. Fingerprint scanners have long been used, but they are not always effective. For example, difficulties arise because of age-related changes.

Baidu is not the only company that uses human face authentication. Microsoft allows users to log in to some systems with facial recognition technology.

In September, Uber started asking drivers of the US to snap a selfie before their first trip, to prevent fraud and protect the account drivers. If a photo of the driver matches what is on file, Uber will block the account until the situation is resolved.

MasterCard was tested using facial recognition to verify the identity of cardholders. The company will officially begin its program in the first half of 2017, according to a press Secretary.

Baidu will allow partners to use its technology. One of the partners is already developing a way to use it to enter the house. Instead of relying on a key or code to the door. He also sees this face recognition technology as a way to prevent scalping of tickets. When you buy a ticket to the event, the organizers can require a picture of your face and then check it when you try to log to the event.