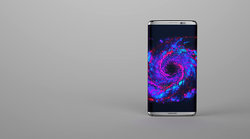 More than a million new phones Galaxy S8 was ordered in advance in South Korea, setting a new record for the domestic market, Samsung said a company spokesman Eric Zones.

This is the first high-end smartphone released by Apple after the defeat of Galaxy 7, which was subject to involuntary fire. The failure cost the company $5 billion She had to remove 7 of the sales. Now analysts say that Samsung needs a flawless launch for the S8.

Last week Samsung announced that its much-publicized tool of artificial intelligence Bixby, seen as a rival to Apple's Siri, is completely ready to release a Galaxy S8 in the USA.

A new phone can be ordered in the US since the end of March. On 21 April, the phone will go on sale in South Korea, the United States and Canada. Samsung did not immediately respond to a query about the pace of pre-orders in the US. According to the head of mobile business Samsung Dongjin last week orders "met expectations" and that the global response has been "good compared to Galaxy S7", according to local reports.

Customers who ordered the phones S8 should get them before they are offered for sale in stores.