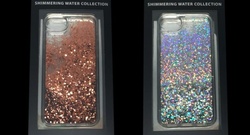 Almost 275 thousand cases, in which in a special liquid containing a gloss, revoked after reports of a leak, causing burns and skin irritation.

MixBin Electronics sold cases designed for iPhone 6 and 7 through Amazon, Henri Bendel, Nordstrom Rack, Tory Burch, Victoria's Secret and GetMixBin.com. The company announced the refund after 24 messages worldwide about liquid leakage and skin irritation, or chemical burns. According to the safety Commission consumer products USA, USA received 19 messages.

If the plastic case will crack or break, fluid can leak and get in contact with people's skin, MixBin said in a statement. One consumer reported the scars from chemical burns, according to the safety Commission consumer products. According to the Commission, another consumer reported chemical burns and swelling of the legs, face, neck, upper body and hands. Plastic covers were manufactured in China.

Customers should immediately stop using the faulty cases and to contact MixBin for reimbursement, according to the report of the Commission.