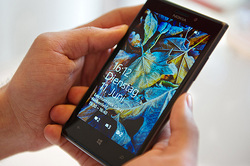 Operating system Windows 10 long before their official release managed to bypass Android 5.0. Preparatory Assembly OSes already installed 0.2% smartphone, at the time, as Android for 2 months could not take more than 0.1% of devices.

The company Microsoft is preparing its own new operating system Windows 10 for smartphones, tablets, PC and Xbox ONE. Earlier, the technical version is already available for download and allows you to test new, still wet system.

A new report from AdDuplex has demonstrated the value of mobile operating systems. Windows Phone 8.1 is working 67,7% phones among joint gadgets with Microsoft OSes. Windows Phone 7 takes 10,8% gadgets and technical version 10 Windows already installed 0.2% of devices. This number is not too large, but the latest Android 5.0 Lollipop for 2 months could not take more than 0.1%. And this is the final version of the system. Only at the beginning of February 2015 Android 5.0 won 1.6% gadgets.

The most famous phone with Windows Phone remains the Nokia Lumia 520, which was released in 2013. The phone is 23,2%. Followed by Lumia 630 (9,7%) and Lumia 625 (7,1%).

As wrote earlier Days.Roux, 13 February, Microsoft released a public technical version of Windows 10, which anyone can download from official website and install on your own phone. The system is available for Lumia 630, 635, 636, 638, 730 and 830. All the gadgets after the installation is Russian language.

Changes from Windows Phone can be seen in the components of the design. In "curtain" arose button fast-paced action, notice to become interactive - the user can immediately reply to SMS. Updated Photos app and the browser. Now this presents Project Spartan, which will change the Internet Explorer on the desktop.